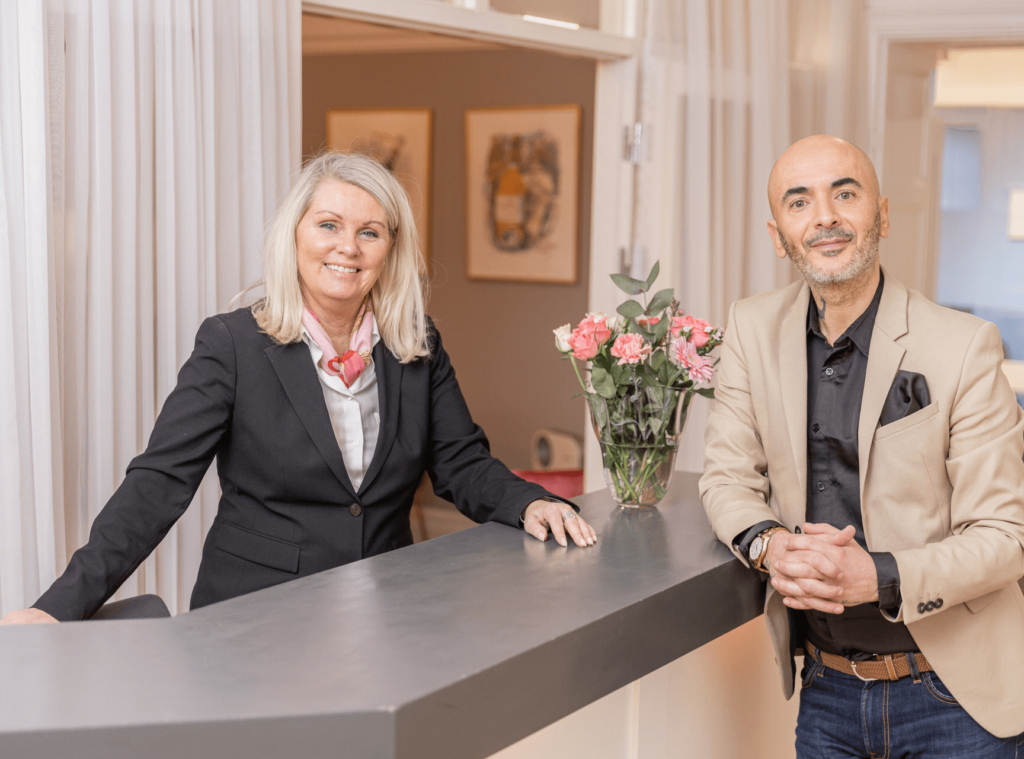 Flexible Office Solutions
Quick Office provides office solutions tailored for small and medium-sized enterprises. We offer rental office rooms, meeting rooms, and coworking spaces across 12 locations in Stockholm, Malmö, and Fuengirola. Our services also include the provision of a business address.
 
Irrespective of your location within our facilities, we aim to make you feel welcomed and enable you to maximize your productivity. To achieve this, we offer exceptional personalized services, flexible booking options, and inspiring environments that encourage interactions and meetings with other members. This has been our recipe for success since our inception over 20 years ago.
Brief history and important dates
1999
The business started in 1999 with 20 office rooms in Hammarby Sjöstad.
2002
In 2002 we started the Kista office hotel and then in collaboration with Kista Science City. The need was great for an "innovation center" and the Kista office was quickly filled with companies.
2003
In 2003, we took over Danderyds Office Hotel with its approx. 50 completed office rooms and Västberga Office Hotel with 12 completed office rooms.
2005/2006
In 2005/2006, the Quick Office office hotel was started on Lidingö. Through the establishment on Lidingö, Quick Office became the largest office hotel chain in Sweden with ready-made office rooms from north to south.
2007
In 2007, we established the 6th office hotel in Älvsjö, right next to Stockholmsmässan.
2010
In 2010, Quick Office switched to being run as a franchise concept and Quick Office Franchise Sweden AB was formed, which became the franchisor. This resulted in external franchisees being able to start up new office hotels and operate under the Quick Office flag and reap great benefits in their operation of the office hotel.
2011 & 2012
In 2011, Quick Office opened an office hotel in Bromma and
In 2012, Quick Office opened another office hotel in Frösunda next to the newly built Arenastaden.
2013
In 2013, Quick Office Kista opened the doors to the new office hotel in Kista. During the year, Quick Office established itself with another unit – Quick Office Globen.
2014
In 2014, Quick Office took over Kontorshotellet Vasagatan 36 and the chain now has an office at one of Stockholm's absolute most central addresses next to Centralen..
2016
In 2016, Quick Office begins a partnership with Selected Office through a co-ownership and can offer the tenants an office hotel in a turn-of-the-century environment at Östermalm in Stockholm.
2017
In 2017, the first office hotel outside Stockholm opens. A completely renovated office is now opening in the expansive Malmö Västra Hamnen.
 
In the old "Comviq building" in Mälarhöjden/Bredäng, in September Quick Office opens another unit in a property now called Sthlm Sydväst.
2018
In 2018, we opened up in the largest mall in the Nordics – Mall of Scandinavia! This office hotel is the first we opened that has a real retail location.
2019
In 2019, we moved the City office from Vasagatan to Drottninggatan 86 – a modern office in a turn-of-the-century environment.
2020
In 2020, the construction of two new units began. A Well-Certified property in Hyllie, just outside Malmö, which was built by Kungsleden (now Castellum) and a property in Bromma Block but NCC as developer. 2021 and we and our tenants could move into the brand new modern office premises.
2022
 
2022 we opened under the concept "Homey" in Järna.